The end of winter here in the Shangri-la highlands is accompanied by a number of traditions, not the least of which is the status assessment and repair/maintenance of the power system.  Sometimes this occurs as early as mid-March, but with travels back and forth to visit Li'l T and his parents and the deposition of several inches of snow as recently as last week, this year "spring" and its requisite duties is/are late in coming.
It is an undeniable truth that when you are "off grid," a prominent blessing is that you are your own power company.  It is also an undeniable truth that when you are "off grid," a prominent bane is that you are, well, your own power company.  Last week I split my time going over the mountains to get some service on my truck (I am old; I remember buying a complete set of new tires for my first car, a 1961 Ford Galaxy 500 with a trunk big enough to hold six feet of a 4×8 sheet of plywood, for $50 in 1970.  Now, two tires for my F150 are $500!   Sigh.) and working on the water line.
I walked the quarter-mile of water line last Sunday to gauge the level of repair needed.  Even though the winter seemed fairly ordinary judging by memory and the consumption of firewood, the condition of the hydro system penstock suggested a different history.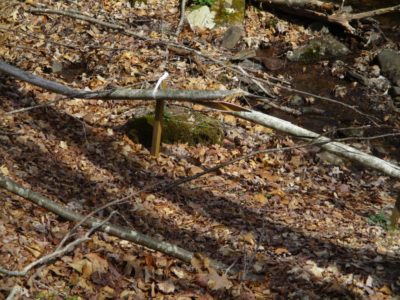 In six places the penstock was breached and fractured with classic helical ruptures as evidence of water freezing in the line.  This was surprising as I thought I had been pretty conscientious when mothballing (draining) the system in November, but the proof of the contrary is unavoidable.   And, this was not even the full extent of the damage to the system (more about that later).
I spent the better part of three days walking up and down the creek to make the repairs to the line itself.  I'm still sore.  I wound up grafting in about 80′ of new line, requiring 14 new joints.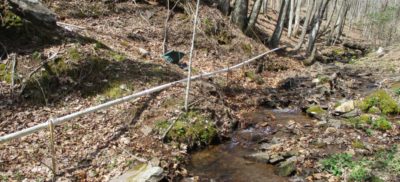 As occurs every spring I spent some time refining the path of the water line to streamline it and increase its efficiency.  And still, every winter I must endure the damage that nature inflicts on it.
Is there a solution to this neverendingly onerous burden?  Sure.  All it would take is to find someone who could bury 1/4 mile of water line 48-inches deep in a mostly-solid rock substrate.  Finding that someone would be a challenge, finding someone to sign the check for maybe $125k is an even bigger problem.
Thus, I learn to embrace the responsibility of putting the system back together every "spring."  There is a lesson there.  Whenever I face a particular challenge or hardship, I try ask, "Okay YHWH, what are you teaching me with this one?"