One of the great joys of living in the mid-Atlantic region is the 42-year-old organization known as The Potomac Antique Tools and Trades Association, or PATINA, which meets every other month in McLean VA on the outskirts of Mordor.  I have had a long and fruitful relationship with this group and find their bi-monthly swap meet and demonstrations sessions to be a genuine delight.  Their annual mid-March flea market and auction near Frederick MD are worth the drive from wherever you might be coming from.
The recent PATINA meeting was the fulfillment of all that and more!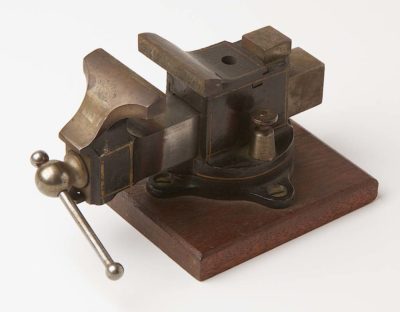 Let's back up a year or ten, reflecting on my research into Henry O. Studley and his tool cabinet and workbench.  Experiencing it, up close and personal, it is even more spectacular than can be captured in images.  The nooks and crannies can be appreciated only in 3D in real space.  One of the tools it contains is this little 1″ x 1″ Prentiss vise mounted on a Cuban mahogany block, tucked up away and entirely out of sight to the normal viewer.  I love this vise and have been looking for a sibling without success since I first saw it almost a decade ago.  I've been in the neighborhood a time or two (more tomorrow) but never found the exact house address.
Thanks to the ongoing project at our daughter's house near Mordor I was in town for last Sunday's PATINA meeting and flea market (I bought a few useful items).
And then my friend JohnD summoned me over to his table.  A fellow named Kevin had strolled in and showed him this.  John knew what it was and also knew I would pop my eyes.  I did.
Holy cow!
I offered him five bucks cash, no questions asked.  He declined.  I think John was dickering with him for a while.  I would love to own this but cannot justify the money it would take to reach a fair price.  But at least I got to look at it closely on this grey, drizzly day.
You just never know what you will find at a PATINA event!