As I write this I'm in Cedar Rapids, Iowa, for a few days of running around making arrangements for next Spring's exhibit The Tool Cabinet and Workbench of Henry O. Studley (tickets available here).  In the company of Cedar Rapids native and vise-maker extraordinaire Jameel Abraham I made excellent progress finding the perfect shops to build the exhibit case bases and plexiglass vitrines.  Jameel took me to a plastics shop he frequents in Cedar Rapids, and the manager said, in essence, "Yes, we can make this case for you, but the guy you really need to be talking to is down in Iowa city."  Since Jameel had other business in Iowa City, off we went.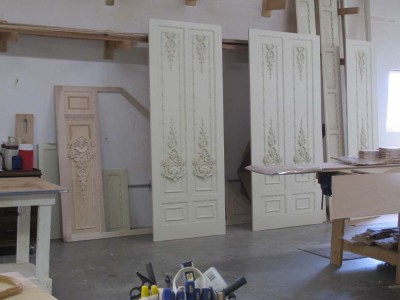 The first stop in the Iowa City area was the cabinet shop Jameel had recommended for the base of the display cabinet and the platform for the Studley workbench.  It was the right choice.  Any shop that can do the sort of work they do is fussy enough for me.
Next we visited the plexiglass shop, and yes indeed he was the right guy.  We speced out the job and he has it on his calendar.  Another great thing is that the cabinet shop and the plexi shop guys know each other and have worked together in the past.
Our final stop int eh area was one of Jameel's lumber dealers, and while he was doing his business I purchased some mahogany for the replica of Studley's workbench I will be building to include as part of the exhibit.
I will be hanging a number of piano-maker's vises from the replica, and they will be "touch-able" by the exhibit visitors.
Finding the perfect shop for the plexiglass work was one of my prime concerns, and it feels great to have it resolved.  Even though the cabinet work for the exhibit will be minimal and fairly simple, it was a real treat to visit a woodworking shop that makes exquisite cabinetry and architectural elements.