Forty years ago, being younger and foolisher, I believed that buying "Name Band" pricey hands tools was necessary for good craftsmanship.  Turns out that might be true sometimes, but not always.  In fact some "name" brands are capable of producing dreadful products, poorly designed, poorly executed, and actually moving you backwards as a craftsman.   Or, sometimes it is just that your way of working is not reflected in the way the tool works.  Such is the case with my first "professional" dovetail saw.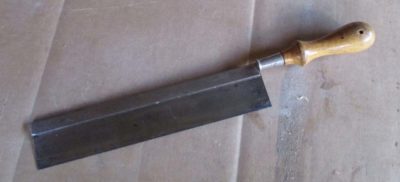 Prior to that moment I had been "making do" with this un-branded "gent's saw," progressing in my skill to the point where I was making real dovetail-ish constructs.  Given my circumstances at the time I am nearly 100% certain that I bought this saw at Sears in the mid- to late '70s, back when they were a purveyor of quality merchandise rather than a real estate management/liquidation enterprise.  But as I fell under the thrall of the Fine Woodworking ethos it became (falsely) apparent that I needed better, brand name, tools to make better progress.
Then came a third try at college with the three years of a highly restricted purchasing and time regimen attendant to that.  In 1984 I started employment at the Smithsonian Institution's Conservation Analytical Laboratory, allowing for a modest tool budget.  This was in the days prior to our current Golden Age of Tools and tool making so the options available to anyone outside the vintage tool network were limited to one or two mail-order catalogs.  So I went to the best hardware and tool store in the DC area and bought the best, most "Name Brand-y"  pair of back saws they had.  How was I to know in advance that the "dovetail" saw was dreadful?  It only took me one or two sessions at the bench to realize that this was the case.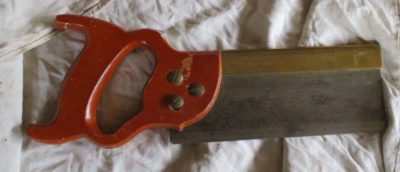 Everything about this saw's ergonomics was wrong.  The handle did not fit my hand as nicely under fire as it did when being admired at the store (was Angus MacAskill their hand model?).  And though the cutting length was nice, in fact the teeth were excellent, the height of the saw plate combined with the absurd weight of the overly stout brass back made the thing so unwieldy for me that my facility at cutting joinery actually regressed when using it.   It might have been a fine tool, in a purely theoretical sense, but it was not suited to me.

The odd(?) thing is that the companion tenon saw I bought, same time, same maker, suits me almost perfectly for its purpose.
So I tossed the dovetail saw aside for more than two decades, no, make that three decades.  With my little gent's saw I made steady progress in my workmanship.  I even augmented that with a Bad Axe standard issue dovetail saw early in that company's existence.  Though these were excellent saws I found that when working in thin stock making petite joinery they were too aggressive.
Me being me, I decided to try to make my own little saw and that outcome was excellent, resulting in not only a perfectly suited saw but even better, some Ivory Tower Coin of the Realm — a publication!  I continued making more saws, becoming more confident in them, giving most of them away as I finished.  I even commissioned Bad Axe to make me a custom saw based on what I learned in making them myself, and that saw remains an integral part of the inventory.
But let's return to the saw whose shortcomings led me down this path; could it possibly be rehabilitated?  After all, the cutting edge was excellent, it was just everything else that was not.
Next time —  the rehabilitation.