Re-ordering  the Jackson Browne lyrics:
Well I've been out talkin'
I don't do that much walkin'
these days
I have long enjoyed the non-political early music of Jackson Browne (I'm not in tune with his political worldview and he is not a good enough songsmith for me to listen to it when he goes there; Bruce Cockburn, on the other hand, is), who penned "These Days" when he was a teenager, and was first recorded by Nico of Velvet Underground fame. Browne's rendition of the song is one of my least favorite.  I think it was performed better by other performers, the best by Gregg Allman, second best by Jennifer Warnes, who I could listen to singing the phone book.  Nevertheless, the song  kept running though my mind as I was puttering in the shop yesterday.
Re-worked ever so slightly it was a perfect metaphor for what "these days" are like for me.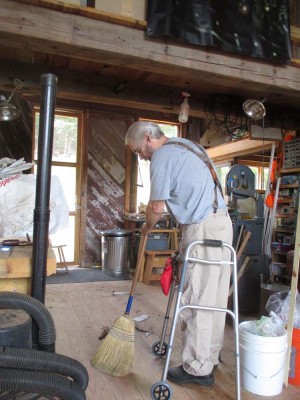 I am now allowed as much time in the shop as I can manage, with the non-negotiable rule that I cannot put any weight on my right leg.  Period.  For another 16 days.  So I stand with all my weight on my left leg, and my right foot merely resting on the ground for balance.
Fortunately there is a lot I can do with my walker and rolling office chair.  For starters, I had never really tidied up following the Studley exhibit, as I left again on another long trip almost immediately after returning from re-installing the tool cabinet and workbench back at its home and dumping the full cargo truck worth of materiel in the barn.   Then I went to the MJD tool auction, returning to spend a week working on the root cellar, then my brother and nephew came to visit and we worked on deconstructing the old shack and tinkering with the hydro, then I broke my hip.  Inexplicably during this entire period the shop fairies did not trek to White Run and dispense with the aftermath of what looked like a tool bomb explosion.
So lots of cleaning up, organizing, and putting away was on the docket.  Floors needed sweeping, tools needed cleaning and putting away (I am not a neatnik by nature), and workbenches needed clearing, all of which I could do on either one leg or two cheeks.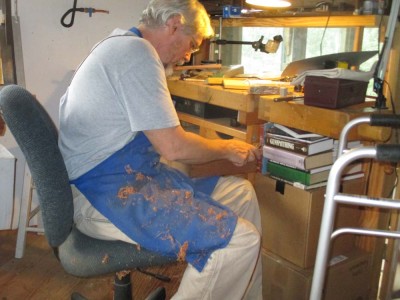 I even grabbed my Japanese block plane and fitted some new drawers for my "fussy work" bench.  The Japanese affinity for doing woodworking while sitting is an increasingly attractive option, provided I do not have to sit like a pretzel.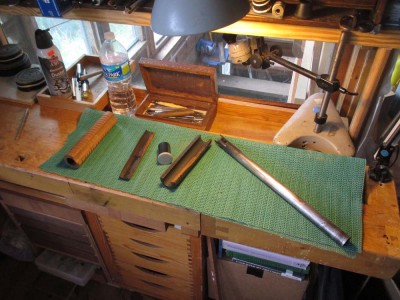 I have a lot of smallish artifacts to finish conserving and gun stock work to do so I will be able to stay productively occupied while my femur finishes fusing.