At the annual MJD summer tool extravaganza the action of acquiring tools at the auction itself is only one of the many attractions.  The tool-dealers flea market gets larger every year and I always manage to get a few treats.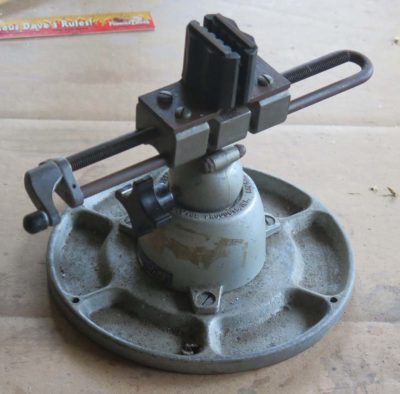 This year it was a pair of screwdriver tips for a brace, always a useful thing to have more of, and a vintage Panavise.
Even better is the extravaganza and fellowship if the cluster of friends I sit with, often kibitzing about the tools being sold and reviewing each others' purchases.   Here is my pal JohnH and a pile of wooden body planes he got for a buck or two apiece.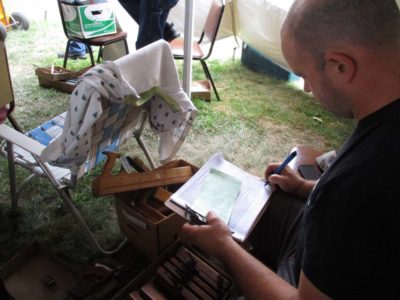 I am particularly fortunate in both the tool acquisition and fellowship aspects to sit alongside tool merchant extraordinaire Josh Clark of Hyperkitten.com.  He comes with a detailed "Buy" spreadsheet and generally has great success as he is buying good quality "user" tools for his customers to purchase from him at a very modest price.  Any while he is aggressively obtaining his winter inventory we get to scour his purchases and make side deals with him.  It is especially superb when he gets a large lot of boxes with stuff he doesn't want.  The the horse trading begins in earnest.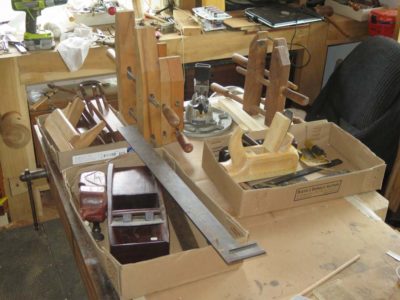 Here's my haul from Hyperkitten this year.
I've always liked "take down" framing squares since they can fit into a low-rider tool tote.  I bought one many years ago and Josh was happy to pass this one along to me.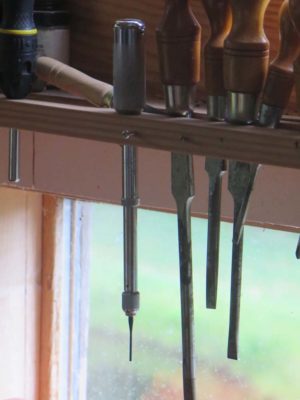 One of the lots that Josh was watching carefully was a small box chock full of Yankee drill bit sets.  I find Yankee drills to be an integral element in almost every work setting and have them scattered about in numerous locations.  The problem is that the littlest bits you use the most are the ones that also break the most.  Once the box was in his hand I bought three complete bit sets from Josh.
One of the tools that is often in abundance is the venerable wood screw, something Josh has no interest in due to the fact that they are so bulky and the demand is too low to commit space to them.  Here is a pile that he just gave to me since I use them quite a bit.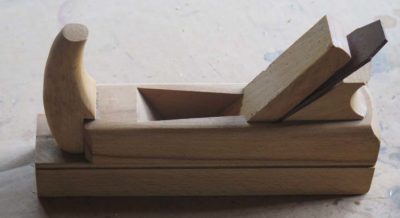 In separate lots were a very nice Ulmia horned toothing plane and an unmarked so-so scrub plane.  SOLD!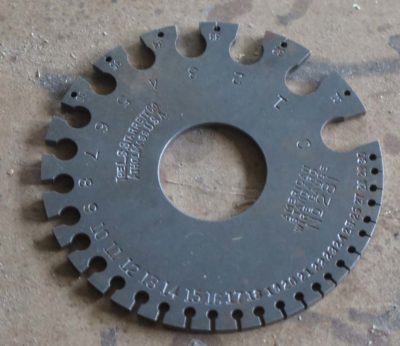 This lovely little wire and sheet metal gauge was identical to one in Henry Studley's tool cabinet, and I did not already have one exactly like it, so…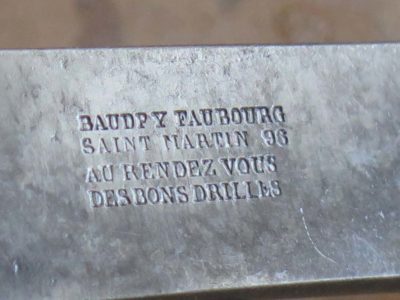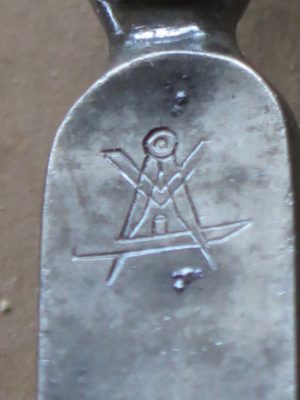 Josh brought this one to my attention and it was so beautifully detailed I snapped it up.  The French  wrest for setting saw teeth is simply a spectacular thing.
Finally, Josh found a fairly good number of plow plane irons amongst his treasure that were too boogered up to be reclaimed without extraordinary effort,  and since I can use them in re-purposed applications he handed them over to me.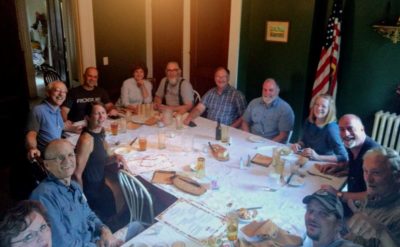 The final off-book delights were fellowship dinners with friends old and new.  One night the lovely toolaholic Christine reserved the upper floor of an excellent local restaurant for our crew, and the next night was the annual pig roast at the auction.  A grand time was had by all.