The agenda for Day 1 of the workshop was ambitious.  We first met for an introductory time and a review of the expectations and projects of the week.  I won't say there was disbelief at the list of things we were going to do, but I could sense some skepticism.  Especially that part about everyone building a complete bench on Day 1, a heritage tool that would be up on its feet by the end of the day and ready to be put to work for Day 2.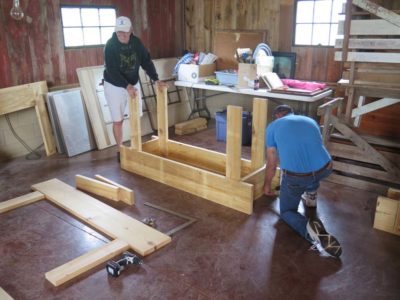 And that is what we did.  I described and demonstrated the process of building the Nicholson bench and everyone got to work, with cooperation and fellowship abounding.  All the 2×12 SYP lumber had been pre-cut so it saved a fair bit of time and allowed for the students to work more efficiently.  As did the use of battery powered drills and decking screws.
Before lunch we had at least a couple of them up on their feet for the first time.  There are repeated up-and-downs with these benches as many of the subsequent steps occur (or should) while it is laying over on its side.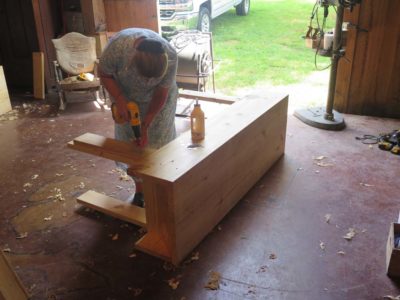 After lunch at Jane and Cam's restaurant, the best one in the region by far, things got hopping as the tops were added followed by the second lamina for the legs going into place with decking screws and glue.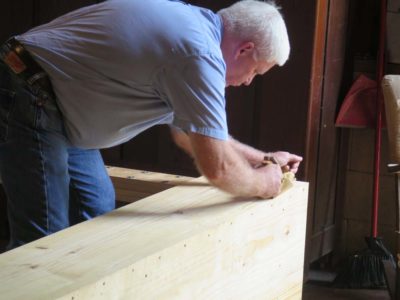 The front edges of the tops were planed flush with the front aprons and folks got the sense that a real live pile of workbenches was about to happen.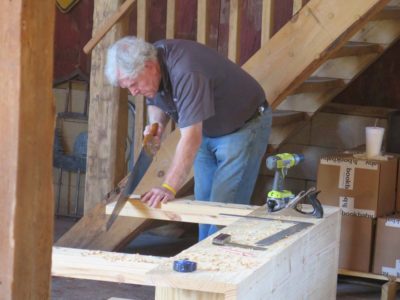 Before long the legs were being trimmed to length and the tops flattened, Round One.  I recommended that everyone wait until next summer for the final flattening of the tops.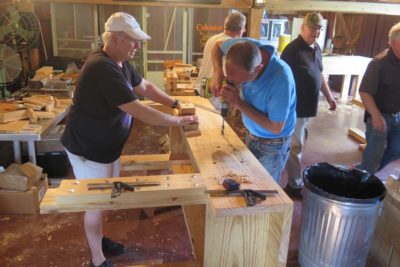 Here are a final few pictures from the day as holdfast holes appeared in great abundance, making the benches fully functional even before the twin screw vises and Moxon vises were completed the following day.  It was such a roaring success that it resulted in total buy-in from the participants for the rest of the week.