Cosmologists assert that the four phenomena holding the Universe together are 1) strong inter atomic forces, 2) weak inter atomic forces, 3) gravity, and 4) magnetism.  Which shows how little they know, as somehow they overlooked 5) duct tape, and 6) shellac.
What has this got to do with The Barn?
Well, nothing actually, but it does lead me to another fundamental phenomenon of the Universe, namely inertia: a body at rest tends to stay at rest, and a body in motion tends to stay in motion.  For the purposes of this post Chris Schwarz and Joe McGlynn fall into the latter camp, I in the former.  These two guys seem to be the very definition of peripatetic.  I am, shall we say, more contemplative.  Yeah, that's the word, contemplative.  ("Lazy" was so much less mellifluous).
One of the things I really like about my studio in the barn is a dedicated sharpening station, and thanks to the inspiration of plane makers Konrad Sauer, Raney Nelson, and Ron Brese, and inventive scrounging genius Mike Siemsen I have long recognized the utility and hence have desired an elegant lapping plate for that work station.  Recently I was at the building recycling center and saw a stack of granite splash boards, probably from a kitchen where the users finally came to their senses and had the granite ripped out in favor of some nice butcher block wood slab counters.
Anyway, I selected two pieces that fit my needs, and they were a whole fifty-cents apiece.  They are 4-inches wide and 24-inches long, which makes them a perfect fit for 4×24 sanding belts for a portable belt sander.  yes, I do own one; I have found no better way to sharpen lawnmower blades.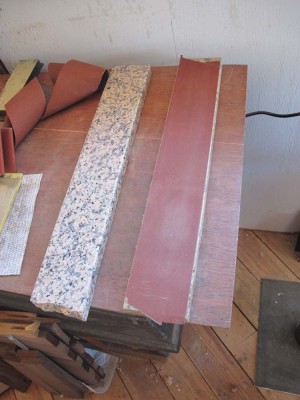 Using the polished granite surface as my base, and spray adhesive as the binder, I first tore the sanding belt once crosswise, then applied it to the granite.  Voilay!  An instant lapping plate.  Given my two pieces of back splash, I can mount four different grits of sanding belt simultaneously, so regardless of the delicacy of the task I am ready to roll. Or lap, as the case may be.