In addition to next month's workshop on traditional woodfinishing (June 20-22) I will be hosting a week-long workbench building class at The Barn  July 25-29.  The event was to have taken place in late September, but since I was still not up-to-speed by then I needed to postpone.
The goal is for each participant to go home on Friday afternoon with a finished workbench that will serve their needs and those of their descendents for centuries to come.  It may not be all tricked out the way everyone wants, that will be up to each person to do ex poste, but I am absolutely committed to creating a process by which every bench goes home finished on Friday night.  If you are interested in participating in this adventure, drop me a note here.
Each participant will select which bench they want to build, an English/Nicholson workbench or a French/Roubo bench.  In order for them to make a well-reasoned choice, and for me to work out any bugs in the system, I made one of each bench.  Either in advance or on Monday morning we can together choose which bench each participant will build as that will determine our stock preps.
The benches will all be made from mostly-clear 2×12 southern yellow pine that I purchase over in the valley, and each requires almost exactly the same quantity of materials.  I will obtain all the materials for the benches, no deviations or substitutions will be allowed.  Not because I am being a stinker or am making bucks off the materials (I am not) but because the only way to get this done is to standardize as much of the process and materials as possible.  And, the construction methods will be machine and power tool intensive, with very little finicky hand work required.
I built the Nicholson bench first, and the next several blogs on this topic will unfold the manner we will be working in July. My initial task was to establish the dimensions, in this case 96″ long x 24″ deep x 36″ high.  Based on that I started cutting up the lumber.
The legs were made such that each leg is two lamina of the 2x stock half the width of the original 2×12.  The only measuring was on the longer piece, which I made 36″; the shorter piece was simply cut according the the width of the 2×12 against the end of the 36″ piece.
Assembly employed one of my favorite rough stock methods, namely deck screws with washers as the clamp holding the two pieces together while the glue sets.  In this case I used white PVA adhesive.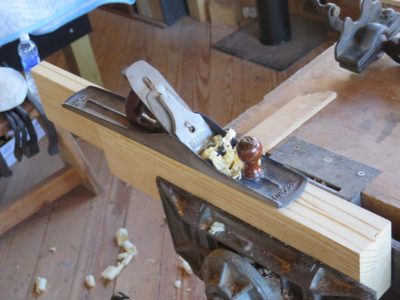 Once the glue was set, the screws were removed and the edges planed flat and square.  With that, the legs were done.