Not too long ago I wrote about the new antique lathe now residing on the main floor of the barn.  My friend Jersey Jon took it on himself to get the beautiful unit tuned and running.  It is good to have friends like that.
One of the things that Jon stressed was the value in using a new power source for the old lathe, and it is a sermon I have taken to heart.  It causes reflection on the fundamentals: to power many kinds of machines, like lathes and milling machines, for example, you need a lot of torque and the ability to alter the speed of the cutting tool.  Hmmm, where to get a simple system of high torque variable speed power source.  Why clothes racks, a/k/a treadmills, of course.
Last month I was downtown at the electronics store and walked by the thrift store for the animal shelter and there it was — an aged treadmill on the porch of the thrift shop.  I asked, and they had no way of knowing whether or not it worked but they wanted it gone.  I made that happen with a small donation.
Back in the shop I also had no way to know if it worked until I made a new key to replace the broken one for the unit, put new batteries in the control panel, and made sure that the breaker switch was set properly.  I got all that done today and turned it on.  Yes indeed, the thing works!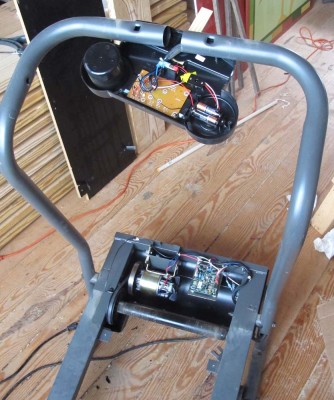 What prompted the precise timing on this was spending a couple of days working down in the machine room/foundry, trying to impose some semblance of order there, as it has been sitting essentially untouched for more than a year.  I've got this wonderful Atlas machinist's lathe, but the drive mechanism has this monstrously huge 3/4 HP motor (literally much larger than a basketball and about 50-60 lbs) and a whole set of pulleys and such that were such a pain to work with.
Depending on my schedule, I hope to swap out the old drive system for the new one by the end of the month (it is not the highest priority at the moment…).  I dismantled and removed the old one this afternoon, so I have passed the tipping point.  I suspect I may start scouring yard sales and thrift stores for more such clothes racks.
Stay tuned.