The final large scale undertaking for the trip to teach in Arkansas was to make the wood screw sets for both the face vise and the Moxon vise, enough for ten benches.  There was nothing special about it other than the scale of the work, in total I made 20 long screws and 20 short screws.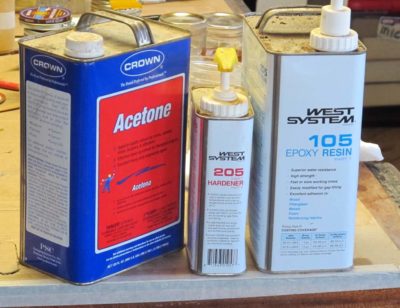 Again I doused the tulip polar dowels with acetone-diluted epoxy  and set them aside, moving on to the octagonal knobs.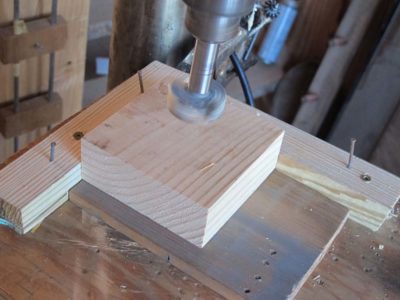 I ran off the 60 squares needed for the knobs (the face vise hubs were double layers) then moved to the drill press to punch the center holes into which would go the threaded dowels.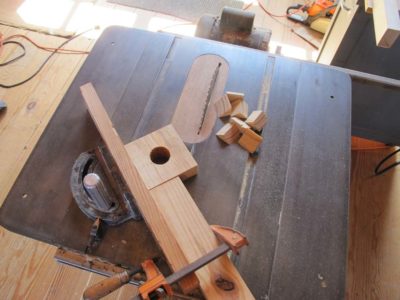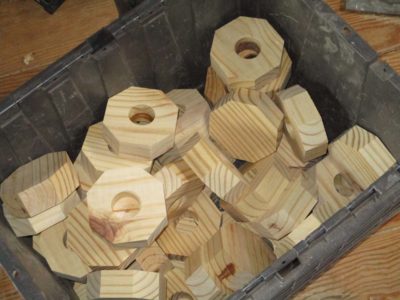 Once I had the requisite pile of holed blocks I returned to the table saw and octagonalized them.   I must say that drilling the holes first made it a lot easier to handle them in this process, there was always somewhere to grab to hold them firm against the fences for the miter cuts.
A pleasant by-product was a box of glue blocks from the off-cuts.  I'll set that aside and will no doubt use them over the coming months and years.
I dealt with the long screws a little differently from the short screws at this point.  This had to do with the arrangement of the Beall thread cutter.  With the long screws passing through a double thickness of stock for the movable jaw I could get close enough to the thread cutter for the threads to work fine by making a split handle to hold and turn them.  This was not true for the shorter Moxon screws, so I fed them by using a small plumbers wrench as a grip to get the threads far enough toward the head.
Off to the thread cutter, where a couple hours of concentration and labor ensued.  Before long I had a large tub of thread stock.
I glued the knobs on them using yellow glue.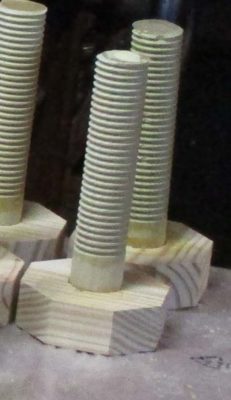 At this point the shorter screws were finished.  As for the longer screw's doubled knobs I trued up the octagons with a Shinto rasp and drilled the pass-through holes for the handles they were finished, too.
Two full tubs of vise screws and it was time to move on to the next thing.