A couple months ago I made another gelatin mold and plaster casting in my efforts to refine that process, and test the proportions of preservatives for the gelatin.  At primary issue was keeping a mold viable for the longest period possible, to see how long the mold could be kept in a sealed container for future use.
The initial steps went perfectly.  Then my vertigo attack became manifest and I did not get back into the shop for more than two weeks.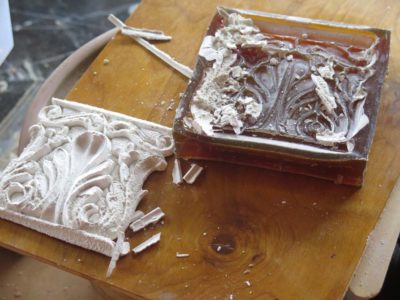 Unfortunately for the mold and the plaster cast in it, it was just sitting on my bench and became desiccated and warped in the intervening fortnight.  Not good.  The mold became hardened and crushed the casting as it warped.
My next step is to see if the damaged mold can be resurrected with hot water or steam.  I'll let you know what I find.
PS – Vertigo per se is gone, but I've had lingering dizziness which I describe as "being fuzzy around the edges."  As long as there is no excess motion around me or I do not have to turn my head quickly I can manage.  Extensive and thorough medical examinations have yielded nothing yet.  I'm hoping it all goes away on its own.