WIA began with a sumptuous breakfast courtesy of our hosts, the good folks at Popular Woodworking magazine.  I had been kibitzing with friends and acquaintances down in The Marketplace and was a bit late for the start and Editor Megan Fitzpatrick's comments, but there was still bacon and eggs and lots of fruit when I got there so all was well.
We then moved en masse down to the same Marketplace, where the money started flowing from the guests to the vendors, and there were many fine vendors selling exquisite tools.
At the appointed time I dashed upstairs to sit in on Patrick Edwards' excellent talk on the history and range of French Marquetry, which given my investment in the Roubo franchise should make my interests pretty clear.  Patrick and I first met 32 years ago, and have remained acquainted ever since.  We invited him to contribute the Foreward to To Make As Perfectly As Possible: Roubo on Marquetry.
Patrick did a terrific job of covering an immense amount of material in his allotted time.
That session had gotten off to a rousing start with stand-up comic Roy Underhill introducing Patrick with a wild story of their first meeting at the Great Brine Shrimp Roundup in The Great Salt Lake of Utah, and how Patrick somehow saved the day in diffusing a brine shrimp stampede that threatened any and all who were nearby.
Immediately thereafter I was next door feverishly setting up my session, "Secrets of Period Finishing."  It was well attended by an enthusiastic audience that frequently led me down rabbit trails with their insightful questions.  I really have to watch myself about that and remember to stay on course.
I am now thinking that a four-hour session is too long in that it actually encourages me to divert from the main theme, and that a three-hour session would impose a certain disciplinary constraint.  I'll have to talk to Megan about that.  Still, a large number of folks stuck it out to the very end.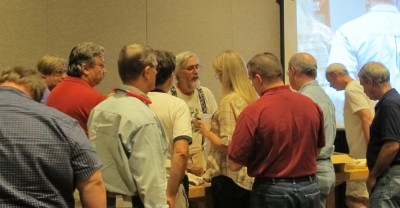 The day concluded with a festive gathering at Martin O'Brien's eerily tidy shop, where fellow Groopsters were joined by Phil Lowe and Will Neptune.