Several months ago I received the distinct honor of being invited by Popular Woodworking Editor and Major Domo Megan Fitzpatrick to be the speaker for the WIA 2015 breakfast banquet on Saturday morning.  Even though I had lost my bout with the wheelbarrow in the intervening period and could not fulfill my commitment to teach, mostly because I knew I simply would not be able to maneuver behind the workbench enough to demonstrate, giving a banquet speech allowed me to stay in one place and talk.  That, I can do.  Especially since the requested topic was The Studley Tool Cabinet and Workbench Project.  Actually I can talk about that one a very long time!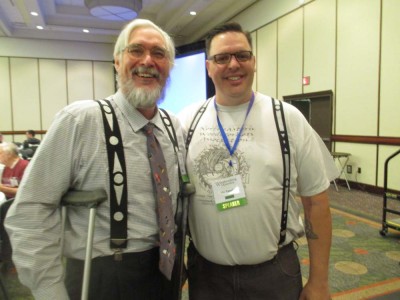 As the event was commencing I was greeted by the other Studley fellow in the audience, Vic Tesolin, who was sporting the pair of Studleyesque suspenders I gave him at the exhibit in Cedar Rapids.  He looked so dandy in that pair that I thought he needed another pair and at his session the next day gave him the ones I was wearing.
The audience was large and well mannered, by that I mean they laughed in all the right places.
Thanks again, Megan, for the invitation to speak.  It was a delight.