I was scheduled to be on stage first thing Saturday morning, starting at 8.30.  I was somewhat concerned about the long-ish time slot of 8.30 – 12.30 for my talk "The Transition From Hand Tools to Machines" since I had given a version that before and it was only about 75 minutes long.  Megan thought I might start at 9, add a bit more information, and have some Q&A and that way maybe  fill up two hours.
Even while driving in to the Convention Center it was apparent that this plan would not work.  At about 8.20 Megan called and said "The crowd is here and they are restless."  Fortunately I was just pulling into the parking garage and was at my appointed place at my appointed time.
In fact the expanded time slot allowed me to explore many of the topics in much greater detail than before, and even after a halftime break the audience remained large and attentive.  Wilbur Pan posted a concise if tongue-in-cheek review of the session here.
Three-plus hours later I stopped talking and made my way down to The Marketplace where Philippe Lafargue and I were to go on display and spend the afternoon signing hundreds of copies of To Make As Perfectly As Possible: Roubo On Marquetry.  After a quick lunch we took our stations at a table adjacent to the Lost Art Press booth and met the long line of folks waiting patiently for our signatures.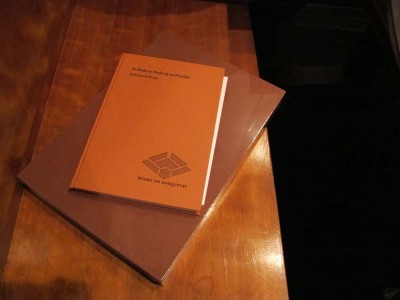 The book's Standard Edition is something like 9×12 inches, and the Deluxe Edition twice as big, which means we were wrangling a lot of awkward poundage of books, signing until our arms nearly fell off.  We were quite literally taken aback by the enthusiasm and encouragement of the crowds patiently waiting in line to spend time with us.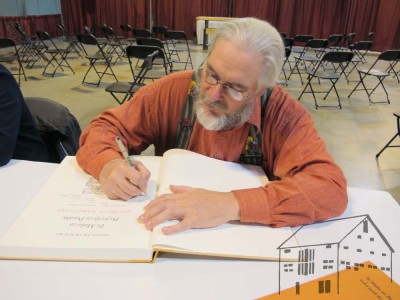 It was a serious time of celebration and delight, and the only way it could have been better if our collaborator Michele Pagan had been able to join us as well.  Her absence due to an unavoidable previous commitment was noted by everyone.
Late in the afternoon I returned Philippe to the airport for his flight home, promising each other to get together sooner than another decade, then concluded the evening at a raucous celebration at the Schwarz household.  Bed could not come soon enough after that.