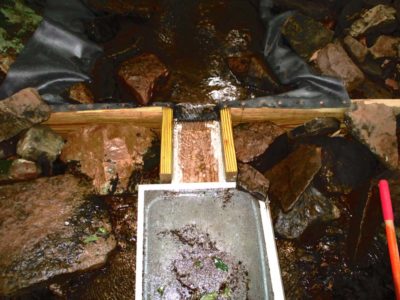 Though I have been exceedingly pleased with my latest iteration of the hydropower capturing basin, a/k/a "Rubbermaid tub with a window screen" and its attendant weir flow sluice eliminating 99% of any debris build-up, a recent trip up the hill has revealed a fundamental shortcoming to the system — it cannot withstand a bear (?) attack.  The plastic tub-and-screen assembly was, to put it technically, knocked all whomperjawed.  The problem was temporarily resolved but now that it is winter and the system is mothballed for the season, the time has come for a more robust response to the travails of life here where there are plenty of big critters.
I'm thinking of fabricating a more robust wooden basin from some of my exquisite c.1840 cypress, designed along the same lines as the plastic tub and its screening feature but with the addition of long horizontal cleats on the underside of the box.  That way I can restrain the entire unit under a thousand pounds of rocks.  And it the megafauna tears that one up?  Hmmm.
I may also try to "straighten" the hydro line to allow year-round operation.  since water will flow in a contained line well below zero degrees F, there is no conceptual reason I cannot operate it here all the time.
Gotta noodle that one.
Plus, it is time to get going on the second water turbine that absolutely positively can run year-round.
Stay tuned.