When it comes to workshop skills, perhaps like some (?)/many (?)/ most (?)/all (?) of you I think of myself deficient in every respect, certainly compared to where I want to be.  Some of the skills I intend to practice more in the future include engraving and checkering.  The checkering is pretty straightforward, the tool kit is small and all you need is a workpiece and a vise to hold it.  Got those.  Oh, and dozens/hundreds/thousands of hours at the bench doing the repetitions that impart skill.  By the way, none of these pathways require talent, a good thing since I am sparse in that category.  But skill? I can do that especially since so many of the practices in my shop are inter-related and cross-re-enforcing.
Just do it, stoopid.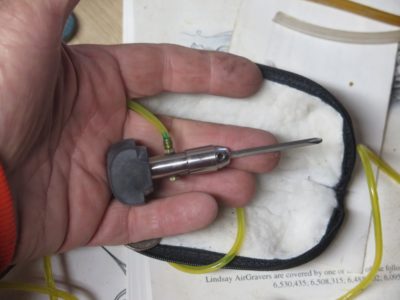 Engraving is a little involved since it requires freehand facility at the micro scale.  In addition to my pretty compete set of hand gravers I also have a first-generation Lindsay Air Graver, one of the most astounding tools I have ever encountered.  Think of a road construction jackhammer.  Now miniaturize it down to palm sized, and instead of an asphalt splitting tip it has a precision engraving tip.  Now you have a Lindsay Air Graver.  I bought a used one and its companion Silent Aire Compressor almost twenty years ago for a couple of conservation/replication projects that would require enhancing some well-worn engraving, and they sufficed brilliantly.  I never became fully facile with the tool, the project did not require full-range ability but rather simply tracing some worn lines, and to be truthful I did not have the time to dedicate at the microscope to make my lines fluid.
My first step down this path was to get my compressor tuned up and ready to go.
Done.  The beauty of this compressor is that it is literally so quiet it can reside in the shop next to the bench.  It's about as loud as a refrigerator and is frequently used in dentist's offices.
The next pathway is checkering, to me a much simpler enterprise than is engraving.  Still, I need to spend more time working at full scale/full speed on gunstocks and tools for it to become second nature.
Some years ago my friend Tred deposited a classical French marquetry chevalet in my space, and I played with it a bit.  I simply need to spend more hours in the seat using it to become good at it.  The kinesiology of the tool is foreign to me as I have spent the past 45 years cutting marquetry in the up-and-down motion.  That much muscle memory is a challenge to overcome.  If I am going to have a variable-speed, hand-powered machine take up more space than a table saw, I'd better make use of it.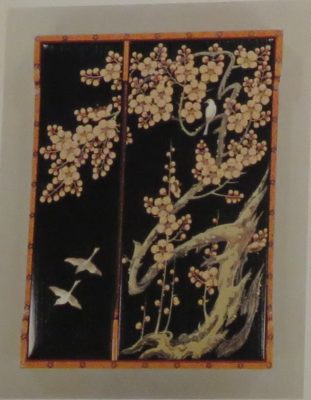 Finally, for this post at least, I come to the area where talent would be a great help — drawing and decorative painting.  In order to most fully exploit my efforts at replicating urushi laquerwork I need to be able to draw and paint much better than I can now.  I hope that more hours of practice will yield a more amenable result, even if it is simply copywork.
I think I am able to reach that level of competence: this is an unfinished class exercise, a pastiche of a Johannes Vermeer painting I executed in college almost 40 years ago.
Armed with my stack of pattern books I will head down this path and hopefully not wind up in the ditch.  Good thing I am planning on working in the shop another 35 years.