Making ripple moldings, and by extension perfecting my ripple molding cutting machine, is going to be part of my life for as long as it takes me to arrive at the horizon.  I am comfortable with the concept of my ripple cutter and will extend the invitation to my fellow ripplistas to spend some more time in the barn this winter/spring as I follow this trail.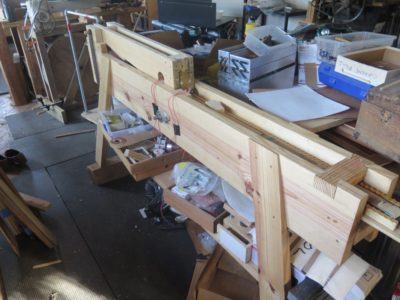 In my current episode of rearrangeritis (my favorite Stumpy Nubs term) I've moved my machine into the heated studio in proximity to my finishing bench so I do not have that excuse to prevent me from noodlin' it at my leisure.   Well, if I had any leisure.
Thanks to some barbarian who chopped up (!) a First Edition L'Art du Menuisier, (!!) and should be condemned to copy the encyclopedia by hand a la The Adventure of the Red Headed League, I've got a lot of original Roubo prints to frame, mat and mount for a display gallery at the top of the cabin stairs, so I'd better get to it.  This includes the plate of the ripple molding machine itself drawn and engraved by Roubo himself somewhat fancifully, given that he had never seen one in person and was simply imagining what it might be.