On my first trip to visit the HO Studley tool cabinet I was quite expectantly anticipating the absolute headiness of the experience of being in the intimate presence of this iconic artifact.  The drive was a test of restraint as it was a long one and I had to reign in my excitement or I would be exhausted by the time I got there.  It was all I could do to avoid the temptation of non-stop daydreaming that would splatter me on an underpass, or calling literally every woodworker I knew to ask them, "Guess where I am going?"
When I arrived and met Mister Stewart, and he ushered me into the room containing the tool cabinet, I literally felt tingles.  Indeed, the tool cabinet and its contents were as amazing as I had psyched myself up for, hoping that I would not be disappointed.  I wasn't.  But, much to my astonishment I realized that the workbench was every bit the masterpiece that the tool cabinet was.  I won't blow smoke up your shop apron and tell you I spent as much time examining and photographing the bench as I did the tool cabinet, but it was a lot more than I was expecting.
I cannot really see myself using a tool repository like Studley's for my everyday work, but I definitely could see me using the workbench all day, every day.  It was as you might expect from Studley, both ingenious and exquisite and all I kept thinking the day I drove from Studley to Cincinnati for WIA 2010 was, "I gotta make me one of these."  Eventually I worked through Chris Schwarz to acquire a slab of mahogany 4″ thick by 28″ wide by seven feet long to make the top.
I got the slab home and nestled into the barn awaiting the decks to clear so I could begin.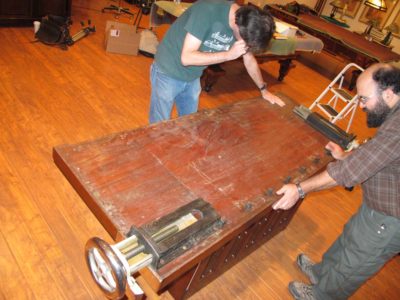 Imagine my surprise when on a later return visit to continue documenting Studley more fully and I was able to study the underside of the bench, and more particularly the holes into which the alignment pins from the under-bench cabinet fit, I discovered that the bench top construction was not what I had expected.  Suddenly I had a giant mahogany slab available for another function; Studley's bench was a laminated construction.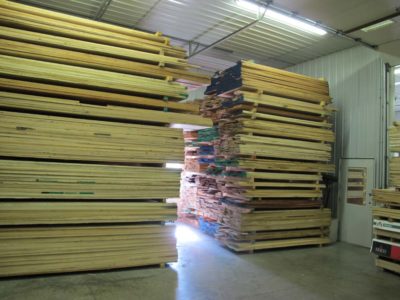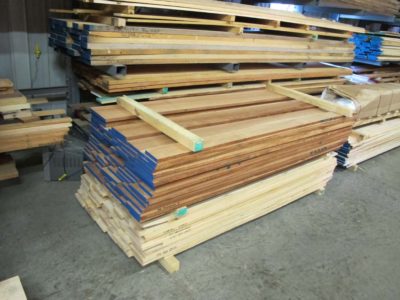 With Jameel Abraham I went to a lumber dealer he patronized and bought what I needed for the bench top.  It was select white oak for the core and mahogany for the faces.  Notwithstanding the "mahogany" was no such thing, at least I had materials to begin the replica bench to include in the exhibit.
Lest you lose any sleep worrying about the abandoned mahogany slab (it was true swietenia, not the phony pastiche that is often sold as "mahogany"), fear not.  I have plans for it in the not-to-distant future.
Stay tuned.