When my friend Sam, a restoration carpenter, bought a portable sawmill he volunteered to practice on the walnut logs from the tree my pal Bob and I felled a few years ago (as a lifelong logger/timberman Bob did all the felling with great expertise, I did the watching and cleaning up after).  Though the walnut tree was a beauty, it was a beauty that cast an impenetrable shadow on one of Mrs. Barn's prized gardening locations.
Nix one walnut tree.
For the last eighteen months the sawn walnut has been sitting in the middle of the large room on the main floor of the barn, awaiting the next chapter in its journey.  That journey will come to fruition later this summer as Webmeister Tim will be coming to the barn for a week-long visit and our project for the time will be building him a workbench.  He is a turner moving into hand tool bench work so we need to make sure he has a proper bench.
Although the slabs resultant from that felling and milling are not fully dried — the traditional rule of thumb was "one year per inch," which means another couple of years to reach "air dry" — I think that they are far enough along that trajectory to allow us to move forward with making his bench.
NB: here in the mountains there are old-time timbermen who swear by a different rule for seasoning wood.  For them, the time is "one year for the first inch, two more years for the second inch, three more years for the third inch," and so on.  By that measure these four-inch-plus slabs need at least another half-decade to be "air dried."  However, given the structure and features of a slab-top bench I think it is safe to proceed.
To get to that point I am prepping the thick walnut slab stock.  Since I had to rip edges of the slabs in place I dusted off my 10″ Milwaukee portable circular saw for the first time since I can remember.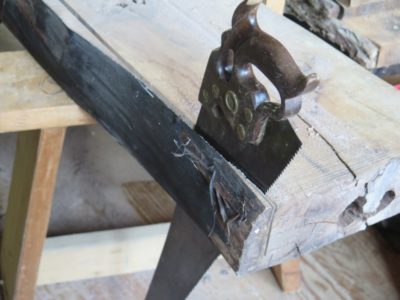 Sawing from one face only the saw got to within about 3/4-inch of a through-and-through cut so I finished up with my venerable rip saw.
I wound up with two beautiful half-slabs, en toto ~21″ x 4-1/2″ x 84″.  I'll leave them alone now until Tim comes and we can move forward, depending on the details he wants for the bench.  I don't have any machinery to handle something like these so there will be plenty of hand work from this point on.
In the meantime I am thinking about slabbing the white oak timbers that have been sitting outside the barn for several years.  The smaller one on top of the pile is 8″ x 15″ x  102″.  The bigger ones are a full 10″ x 15″ x 125″.
Stay tuned on that one.