Back at home after GroopShop 2014 Bill continued to assemble, finish, and augment the folding portable workbench we had built as a demo for GroopShop.
After installing the folding diagonal leg braces he gave it a trial run and found it to be too light for his tastes.  Plenty sturdy enough but too light to work with comfortably.  So, he made a shelf to fit between the lower cross braces of the legs and serve as a storage space, clearing the space around the bench and adding mass to the overall unit.  The shelf was made using the exact same technology as the top.  Like the top it was amazingly light in relationship to its strength and utility.
One of the really cool features is that the shelf fits neatly in between the folded legs underneath the top.  As you can see he even has room for a second shelf if ever one is needed.
After painting the leg units black, it was going to be used in a museum gallery after all, he set it up and found it to fulfill his needs precisely.  I don't think he ever found the need to install the vises, but the set-up for them remains in place and ready to go any time he needs it.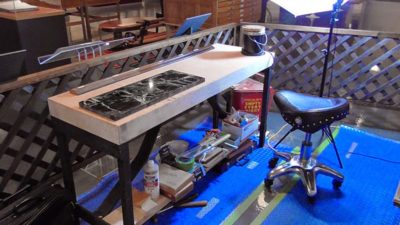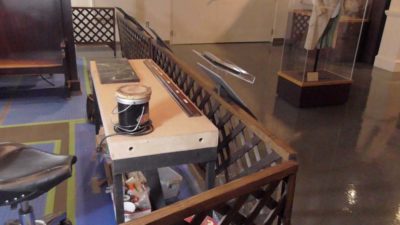 I believe he uses it regularly as a wonderful assembly table in his own shop, ready to be folded up and easily transported to a new on-site project where it is needed.
Sometimes improvement occurs as a flash of inspiration, sometimes through an incremental grind.  This bench concept was a bit of both, and the improvements I made in this version carried over into the next folding workbench model, which I believe is workbench #20 or 21 in the series.  I will be recounting the changes in great detail.
I do not have a workbench problem.  I have a lot of workbenches.  Big difference.