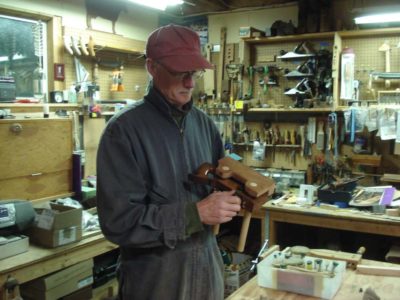 More than a dozen years ago I crossed paths with Tom, a retired police detective and rustic woodworker (that's a description of the style in which he generally worked, not a commentary on his considerable skills.)  Tom had a booth at a community yard sale selling some of his tools and, well, you know how the rest of that story goes.
Shortly thereafter we started spending Wednesday evenings in his shop making sawdust, sharpening tools, making and repurposing tools, and on occasion solving some global problem.  Or more likely, just working on projects while we enjoyed each others' silent company.
When we started that routine that lasted for a decade until we moved to The Fortress of Solitude, Tom's shop was set up for him to work pretty much alone so one of our first projects together was to build another good workbench for me to use.  Projecting from my own Old Faithful I designed and built a larger torsion-box-top bench on a petty standard base.  Over a period of several Wednesday nights the bench took form until it was ready for battle.
Tom had never built a torsion box and was fascinated by the whole concept and process, especially when all the parts of the 1/2 baltic birch box were glued together into a 60″ x 24″ x 5″ thick whole.  Once that was done I affixed the 60-inch twin screw vise to one of the bench faces (I had obviously already prepared the holes inside the box grid before glue-up) and suddenly he had another unique high performance tool added to his shop.  I think we had it sitting on a pair of sawhorse for a couple weeks while I used it to fabricate the base, but before long it was all together and sitting on the floor for me to use.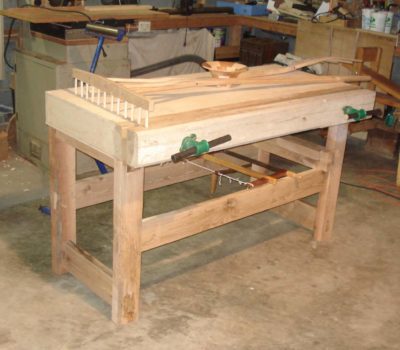 Well, he used it a fair bit as well.  Eventually Tom added a pair of rising stops to either end of the bench and I added a shelf underneath and it was done and put to work immediately.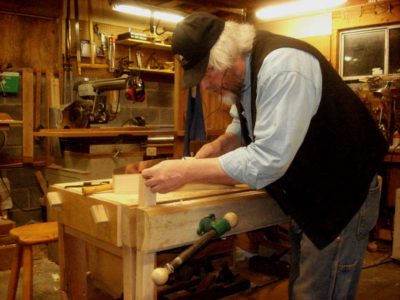 For several years it served me well in Tom's shop and I fully intended to leave it behind and for it to become part of his inventory when we moved away.  (My weekly evening in Tom's workshop was one of a very few things in Mordor I left behind with regret).  Tom promised to visit The Barn and in fact he came a fair bit early on, and he had come several times to work on the barn with me.
On his first trip to work in the barn he surprised me by bringing the bench with him.  He said he wanted to make sure he would always have a workbench whenever he came for a visit, which has not been as frequent as I would like.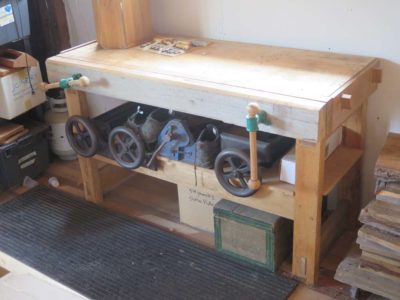 But the bench is sitting in the barn, just waiting for him to join me.  Maybe a little cluttered, but ready and waiting.