Returning unapologetic after a week of spending time with the family, and even missing the ostensible subject by one day, let me spend a few minutes looking forward in the context of Workbench Wednesday.  As we last left the subject I posted a gallery of past and current inventory of workbenches either in the Barn or made by me in the barn.  But make no mistake, this does not end the string of workbenches by my hands.  So here goes a glimpse of what the future might look like.  There are many projects at various stages of development and planning extant.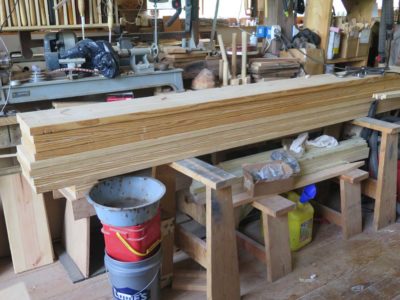 Tim's Bench
Next up on the workbench agenda is to make a massive 10-foot Nicholson-style gunsmith's partner's bench for my friend TimD.  Tim is a gunsmith making superb late 18th century long rifles and often teaches workshops on the subject.  For that reason Tim wanted a workbench that could suffice for both his own work but that of a student on the other side as well.  As is often the case for me the starting point is select SYP from Virginia Frame in Fishersville VA.  I'll get this delivered to Tim sometime later in the summer, but first we have to line up two additional stout fellows at the finished bench will weigh in at just under 450 pounds.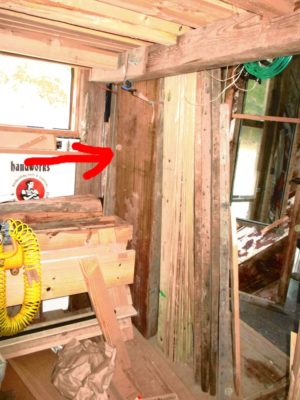 The Mahogany and Walnut Roubo
When I first encountered the H.O. Studley menagerie in person I was particularly struck by his workbench.  While I could not imagine myself using his tool cabinet as a routine matter, I definitely saw the workbench as a valued addition to my work space.  Then, when the famed lumber store in the Cincinnati area closed I asked Chris Schwarz to get me a slab of mahogany from which I could make such a bench.  He acquired a sweet 7-1/2′ x 24″ x 4″ slab.  Subsequent visits and close inspection of Studley's bench revealed it was not a mahogany slab but rather a laminated top with oak cores and mahogany faces.  I set the mahogany slab aside and now know that I will turn it into the over-the-top Roubo bench it was evidently destined to become.  In addition to the magnificent mahogany slab I have the necessary 6″ x 8″ vintage black walnut stock to make the legs.  This should be a real eye catcher when finished.
The Ultimate On-Site Restoration Bench
This knock-down lightweight bench is the third generation of the concept, and will include many new features but not sacrifice much of the lightness.  I started this bench a few years ago and set it aside but hope to get back to it in the coming days.  Stay tuned.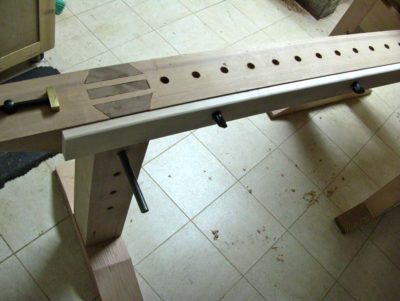 Replicating Shannon Rogers' Joinery Bench(es)
The first time I saw Shannon Rogers' two-part joinery bench with the tall, standing bench and its companion planning beam I offered the highest compliment I could: "Darn, I wish I had thought of that design for myself."  At this point of my working life I cannot say that I actually need it right now, but I can definitely see a time where a differing living situation might make this a perfect fit for me.
The Roman Bench
Since Chris Schwarz made his research into this low slung bench, and viewing Jonathan Fisher's iteration of it, I knew this bench was something I needed to build and have around.  In great part this is because it might make great allowance for working while sitting down.  Plus, since I also dabble in fiction writing I would like to incorporate the workbench into a series of short stories I am trying to sketch about the working life of Joshua Bar Joseph, a/k/a Jesus of Nazareth, prior to his assumption of His earthly ministry.  Having this bench around to inspire me could, well, inspire me.
Curly Maple and Oak Roubo
Over the years I have compiled a substantial inventory of lumber including some pretty big stuff.  Included in this is a slab of curly maple I have squirreled away, along with some fabulous 6×6 oak for the legs of a sweet Roubo.  I have worked on the slab on-and-off for a few years, but perhaps this autumn is the time to bring this ting to the finish line.
Replicating William's Benchtop Auxiliary
Some time ago at an SAPFM regional chapter meeting my friend WilliamD showed his auxiliary bench-top-bench, a concept I first heard about from Steve Latta.  The appeal of this appendage is pretty evident in that it reduces the amount of bending over that is required for detail work.  At the moment I just use a nice piece of plywood sitting on a pair of shoji-work-style mini-horses.
Restoring My Piano Maker's Bench
This thing needs a thorough going over including adding a new layer of mahogany over the current top which would first be flattened.  Oh, and the vises both need cleaning, polishing, and nickel plating.
Bob's Slabs
My pal Bob got these 10″ x 15″ white oak timbers ( two are 10′, one is 8′) from his brother, who works for a hardwood saw mill, to chop up as firewood.  Bob thought I might put them to better use as workbenches or something and I agree.  When I look at this stack all I can see is a bunch of Roubo bench tops.
More Workbenches for A Possible Gragg Chair Workshop
Should I decide to offer a Gragg Chair Building Workshop, to which I am about 90% leaning, we will need another three or four workbenches up in the attic studio, the only place large enough to host such a class.  If I do go in this direction these benches, almost certainly Nicholsons, would would be a winter time project at the end of this year.
That's all I can think of for now.  I might need to think about an annex for The Barn…