With the Romastonian Low Bench up and working a little bit, mostly because I have just been too busy with other activities lately to give it a solid and lengthy workout, I identified one last feature to incorporate into/onto the bench.
While planing the edge of a board wedged into the crochet I was setting the board's weight on my Japanese tool box that resides under the bench.  It worked well enough.  Like most of you I employ a standing dead-man when using my other benches but that did not seem to work so well here and if I move the tool box elsewhere I need a different utility.
Instead I envisioned some rotating tabs tucked under the edge of the bench, out of the way whenever I am not edge planing, perfectly suitable when turned out as needed.  As you can see clearly this was exquisitely elegant craftsmanship.  A scrap of 1×2 chopped into five pieces, then affixed to the underside of the bench edge with decking screws and fender washers.  I am certain that if Roubo had owned a battery drill, decking screws, and fender washers this is the exact way he would have solved this problem.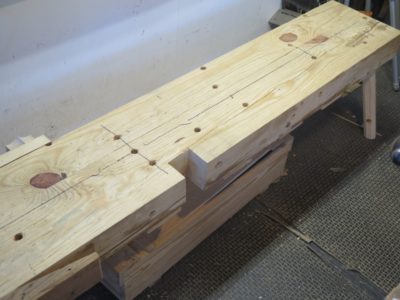 While upstanding for "normal" use the new utility is imperceptible.  When readied for combat the knee busters come out.
And in the heat of battle they do their task perfectly.  I'm thinking I might decide to scoot the crochet a few inches in from the end to better fit my own posture when working while seated.
About the only thing left for the bench is to wait through a winter in the heated space (with its attendant reduction in RH) I'll true the top then tooth it in keeping with my preferences.  I am very much pleased with the bench and expect it to become a workhorse in the shop.
Is it my final workbench project?  Don't be silly.  I've got three more already in various stages of development and fabrication, each of them profoundly different than the others.  Besides, since I just learned I am going to be a grandpa I've gotta be ready with whatever bench Barngrandbaby #1 would like.  Working on that first tool kit already…