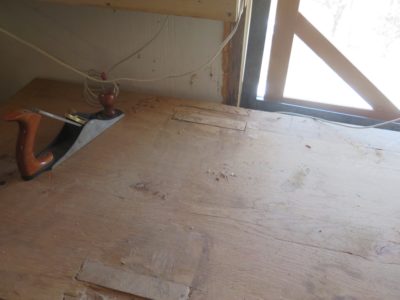 One of my quirks is that I usually like to lay a piece of sacrificial sheeting on top of my workbench most of the time, and today was my day to swap out the old one for a new one on the FORP Roubo bench.  As I was making the swap I noted that it was also time to address one of the two main manifestations of Seasonal Affected Disorder that afflicts (?) wood in the natural course of events, sometimes called hysteresis, sometimes called rheological cycling, but generally known to us folks at the workbench as "wood expands, wood contracts."  One of the consequences is that when there are pieces of wood assembled with different grain orientations eventually they get out of sync dimensionally.  In a Roubo workbench this become manifest as the tops of the leg tenons eventually protruding past the top of the slab.
As I was fitting new pieces of luan plywood to lay on the bench top I noticed that the tenons were quite proud of the slab, perhaps 1/16″.  I only assembled the bench a couple years go and did not notice the issue when I laid the initial sacrificial covering at the time, but it was there now.
You might have thought that since the bench was initially fabricated eight years ago it should be fully settled into its new environment.  Maybe, maybe not.  If the old adage that wood seasons at the rate of "one year for every inch of thickness" is true then the answer would be "yes."  Since I moved to the hinterlands and talked to some of the local wood guys I have come to appreciate their view of seasoning woods, especially dense hardwoods.  To them "one year per inch" does not hold true; instead they use a formula of "one year for the first inch, two additional years for the second inch, three additional years for the third inch," and so on.  By that metric my five-inch-thick bench top will pretty active for 1 year + 2 years + 3 years +4 years + 5 years, for a total of 15 years.
I dealt with the tenon ends directly in about an hour this morning, and will address the slight crown of the overall bench perhaps at the end of summer.
It might be worth reiterating that once I get a slab bench top flat I prefer to hit it with a toothing plane to give it a little texture.  I lose none of the planarity but gain a lot of grip on the workpiece.