The actual assembly of Tim's gunsmithing partner bench was pretty meat-and-potatoes, differing from other Nicholson benches I've built only in the size (10-feet long), the mandated use of countersunk slotted head wood screws (from Blacksmith Bolt and Rivet) and the fact that both aprons needed doubling up for holdfasts due to this being a bench used by two people at the same time, one on each side.
Soon enough the beast began to take shape in short order; it will weigh almost a quarter-ton when finished.  Once the bench was on its feet Tim came by to take a look and made requests for some additional features I will talk about next time.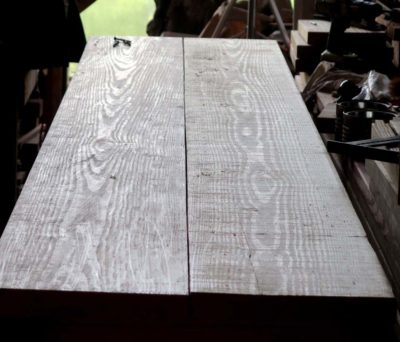 One of the issues I needed to address, and began doing so almost immediately, was the fact that these magnificent SYP boards came through the mill on a very bad planing day and were beset with the worst planing chatter I hade ever seen.  I needed to gently plane them out in order to leave a good base for the final surface treatment with a toothing plane.  I've begun the hand planing on the left board, you can really see the difference.
Up next – the peculiar configuration for the leg vise.