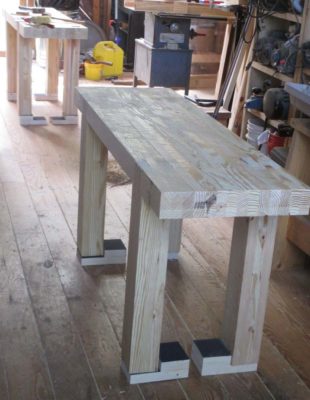 A couple months ago I blogged about building a pair of petite Roubo workbenches (18″ x 64″ tops) for my booth at Handworks in Amana IA, with one of them being ultimately destined for my colleagues in the Rare Book Conservation lab of the Library of Congress.  I'd taught a two-day workshop on making book boards by hand, an event that was simultaneous delightful and frustrating.  Delightful because the staff there was congenial, skilled, and highly motivated.  Frustrating because they did not own a workbench worth lighting on fire.  I vowed to rectify that situation, and now have.
With the writing desk project completion drawing nigh I was able to take a few hours to get the LC bench assembled, trued, and tarted up.  The former was straightforward, as I drove home the legs in their twin sockets with a sledge.  They were so snug I did not bother with glue, I simply pinned them in place with 4″ screws and wedged any spaces.   The top surface needed only a few minutes of flattening, first with a #5 set up as a fore plane, followed by a freshly sharpened #7, and concluding with cross-hatching with a toothing plane.  The stretchers and shelf were equally simple, screwed or toe-nailed in place.
The "tartification" came in the guise of a modified vintage leg vise I had in my inventory.  Given the mundane nature of the original, probably a late-19th Century unit I picked up who knows where, I felt some enhancing was in order.  The barrel head of the original was entirely uninspiring, simply inappropriate for the new setting and the artifacts it was to be part of.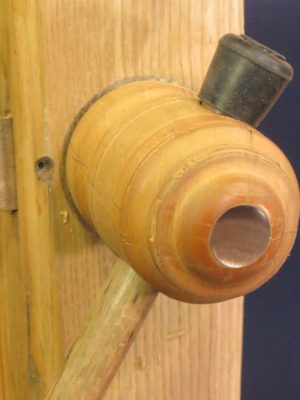 I gave it some new life in its contour, and inset a large mother-of-pearl button at its center.  Just because I could.
Not to abandon the foot of the movable jaw, I spent a few minutes with a saw and a file to give it a bit of pizzazz also.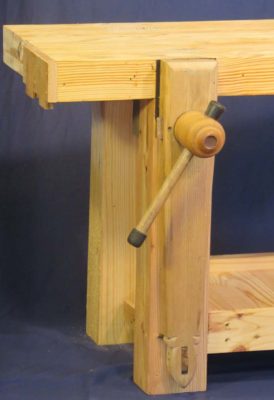 My final flourishes were a double planing stop attached to the end of the top and some sharkskin pads for the top  of the vise.
It gets delivered in a few days, and I hope they enjoy using it as much as I did in making it.