The light at the end of the tunnel was glowing brighter with every day.
I created an archival label for the desk, describing its antecedent heritage, the making process, the patrons, and me as the maker.  I glued it into the drawer and with that the creation of the desk was complete.
After that the only tasks were the glamour (?) photography, including the obligatory selfie, and delivering it to its new home.
All it took was almost two years from the initial client inquiry, my suffering and recovering from a broken hip the first year and a broken arm the second, a pile of prototyping, and a ton of hand-work as the project mandated.
I was not displeased with the ultimate outcome.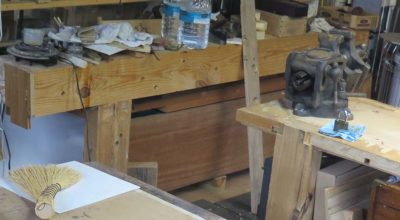 Throughout the project and its aftermath I assiduously acquired enough vintage select genuine mahogany, stored mostly underneath my planing beam, to make another half-dozen of the desks.  All I need now are the clients to make it happen.  If you know anyone who wants one, let me (or them) know.