Many of you have gone through something like the Autumn of 1987, perhaps with similar results.
In my case I had settled nicely into my job as Senior Furniture Conservator at the Smithsonian Institution.  Daughter number 1 was flourishing as a toddler, daughter number 2 was on the way.  Most of the structural work for a second expansion of the house was underway and needing to be completed and closed in.  (I remain astonished at the level of energy I must have had to work a full time job all day and work until midnight for months on end to eventually triple the size of the house)  But, the finishing of the interior spaces had hit a hitch.  We needed new square footage more urgently than we needed window trim.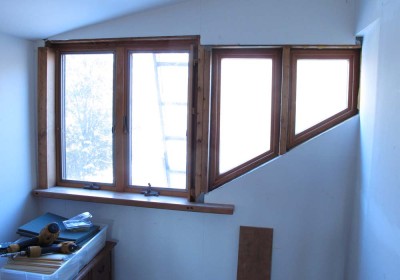 Flash forward to 2014.  We are continuing the struggle to get ourselves moved out of a house after almost thirty years.  And there is that one corner in the back of the master bedroom that had been behind three bookcases, a desk, and a large filing cabinet for all those years, windows installed but never trimmed out.  As the bookcases were emptied and moved out, the space was accessible for the first time in decades.  Fortunately all that vintage cherry for the window trim had also become uncovered in the basement shop with the recent move of most of its contents last month.  (Virtually all the trim in the house is vintage woods from the mid-19th century – living room with shoji with mulberry bark ,paper and the bedroom above it trimmed with exquisite c.1840 cypress from a railroad water tower, the dining room, library, and music room in black walnut, the master bedroom and bath in black cherry, etc.)
Finally after almost thirty years I am completing that long-unfinished task of trimming out the windows in the corner.  In so doing, I have had the opportunity to reflect on the long and winding road of my own growth as a woodworker.
Stay tuned.