Recently I was contacted by JoeM about his newly acquired vintage Studley-era piano maker's workbench.  His own eloquence suffices to tell the tale, although I edited it a touch for privacy and continuity and to format it since he wrote me multiple long missives on a (non-smart) cell phone.
I have found a piano makers work bench from Boston 1866.  It has the wheel vices, is 33 by 77 inches. The vice was shimmed with the makers committee member cards, from the Boston city council.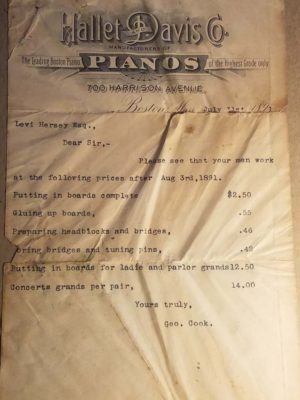 I also found a memo from Hallet and Davis 1891 setting the rates of pay for the piano makers.  It has six drawers and three smaller drawers inside, which are covered by a pull down front.  It has all the dogs.  
The end vice has a dog that passes through and slides.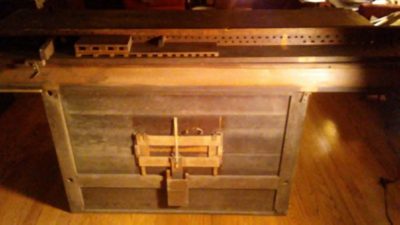 It also has a hidden pull cord that locks the drawers by a cool mechanism in back.
Anyway, I'm a carpenter who was lucky enough to find this bench in the cellar of a home in Springfield Ma.  I traded the bench for a 400 dollar job at the house.  I quickly called my friend who is an antique tool collector and described the bench.  He offered me 1000 dollars with out seeing it.  He finally told me what it was, and said hes only seen two such benches in 50 years of collecting!  
So the lady I traded for said it was her grandfathers, born in 1859.  She said it had been in a few businesses  around Springfield,one being Hampden Brewery, before it was returned to her, I really don't want to ask her any more about the history in case this thing is valuable and wants it back.  Right now the bench is in my living room where I study it.  I seem to find something new each day.  
I'm glad I read your article of furniture conservation as I started doing minor repairs.  I glued a few cracks on the back side, but now will wait till further investigation.  I did not know what a science it was.    
One vise was attached to the bench and one was on the floor.  Strangely the one on the floor was fine, the one on the bench was repaired. Some one must have dropped it.  The vice face was snapped off and welded on, and get this BACKWARDS !!   So the big Question is do I get it repaired?   My best friend is the best machinist I've ever seen.  He does incredible things with steel.
The two bottom drawers have different pulls than the top five.They don't look original to me, and they have been painted gold.
Back to the history, the cards shimming the vise (had to take it off to move it) were in remarkable condition.  The name I traced was Jairus A Frost.  He had two different street addresses on two different cards, suggesting the passage of time pointing to him as owner.  Some where in the Boston records I found his occupation listed as piano maker.  A friend of mine found an article in a news paper that said he was in the Boston Benefit Society.  The cards say Committee of Relief, address 38 Porter St and 484 Washington St, Boston.  One card lists him as vice-president January 1866 to 1877.  There must be more info on Jairus, I mean I found this info with my meager computer skills.
Note: I laid my Sabilla level corner to corner and it is dead flat at 162 years old.  
My wife hopes the bench is worth a ton, but I don't, I want to keep it if I can.  Will send pics as soon as I can get my daughter to do it.
Joe and I spoke on the phone for a good, long time, and it was a delight on many levels.  I gave him some advice on the care and restoration of it, and the last time I heard from him he was going to keep it.
Great story, Joe!