Once apon a time I thought making and selling Mel's Wax would be a foundational activity for me in "retirement." I believed the product invented for the archival care of furniture and wooden artifacts while we were together at the Smithsonian would grow into a prominent role at The Barn (half of any proceeds go to Mel's widow.)  The custom-designed performance and formulation was unlike anything else available to furniture caretakers, and one major player in the home care products market whom we approached to manufacture it declared it to be (when cutting through the corporate-ese)  "…the best product of its kind we have ever seen, but we have too much invested in our own brand to pursue it."
Instead it has become a minor amusement for me as there seems to be little interest in the product.  Admittedly this might be because I will not turn it over to some third party for  production and marketing.  It is a fussy product to make, and its applications may be too niche.  We found that every potential producer who tried to make it cut corners and substituted more "convenient" ingredients (read: cheaper) or made other modifications to the formula and process to the disadvantage of the product concept and performance.
So, instead of working at anything near my capacity of a one-man shop, even if expanding that to a one-man-and-his-really-smart-wife, I find myself making  batch (28 units) every so often.  Last year while mail-order businesses boomed in general, I sold exactly 17 units.  This year is better, having outsold 2020 by a factor of three already, so I was needing to make another batch last week, the third one this year!  Normally I make it during the winter when things are cool in the shop (I keep it around 60) but we are now in the throes of a heat wave (low 80s).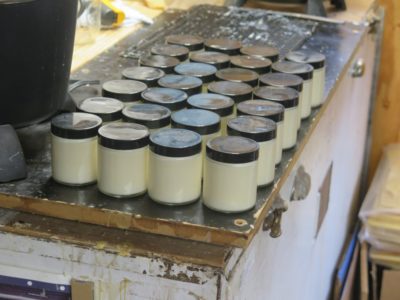 While making the batch it seemed "off" and I set it aside for several days to settle down (sometimes it takes a while for the emulsion to fully set).  When I checked back a week later it was still "off" (had not settled into the "lotion" viscosity) and I wondered if ambient heat was the issue.  I've placed it in the basement of the barn (60 degrees) to set for a day or two and I will check it again.  If I still do not like it I will make a whole new batch.
This episode not only made me go, "Hmmm," but reminded me how finicky it is to make.