Last month my long time acquaintance RichardB organized another field trip to JerryR's shop and examine again the ripple molding cutter his dad Irv made a jillion years ago.  Both Irv and Jerry made/make exquisite clocks and incorporate(d) the moldings into their designs.
The catalyst for this gathering was the visit of KurtN who has built his own version of such a machine and was, like me, continuing research on the topic.  We were also joined by tool historian and collector extrordinaire BobR for a grand day of fellowship and exploring the elegance of craft technology.
I found it useful to once again spend time with the machine, as it was extremely helpful in formulating and refining the strategy for the upcoming gathering to manufacture a ripple molding machine at The Barn late next month.  In fact we have enough folks coming that we might try to divide into two working groups to make two machines.
Here's a gallery of the day.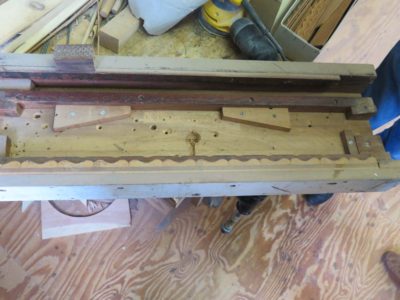 Stay tuned.