Being a long time shellacophile in the Age of Ebay I browse that site's holdings periodically for shellac-related items of interest.  As a result I own a Zinsser money clip, several generations of sales and technical brochures, a book or two, and several old timey shellac bottles and cans.  Recently my visits to ebay for this purpose have dropped off considerably, coming now only to once every month or two instead of a couple times a week.  I'm just too busy to spend that time, and frankly have not found anything worth buying in a few years.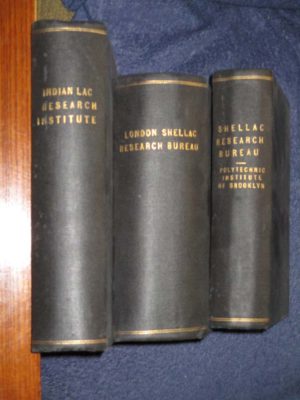 That all changed a couple weeks ago my pal TimP sent me a note indicating the availability of these three treasure troves, bound compilations of research monographs and related materials from the three gravitational centers of the Shellaciverse: The Indian Lac Research Institute; The London Shellac Research Bureau; and the Shellac Research Bureau, Polytechnic Institute of Brooklyn.
There was a "Buy it now" option so of course, I bought it now.  It was my moral duty.  Earlier this week the hefty package arrived here in the wilderness and I eagerly opened it to see if it was solid gold or simply dross.  Each volume is several hundred pages of documents comprising dozens of monographs, technical notes, and other publications.  A quick glance indicates that almost half of this is new to me so it constitutes a substantial amazing addition to the archive.
Thanks TimP!
It will take some time, perhaps even needing to wait until the winter reading season, but I will get through the books and digitize them for inclusion into my electronic version of the archive.
Note to self: resume posting publications to The Shellac Archive!
PS  With the arrival of Spring like a freight train, some recent eye surgery (my 21st), a little travel, and a heavy video production schedule I simply haven't had much time nor energy to blog lately.