One of the things I have enjoyed hosting in the past is a Finisher's Retreat Weekend for the two regional chapters of the Society of American Period Furniture Makers in which I am involved, the Chesapeake Chapter and the Virginia Chapter.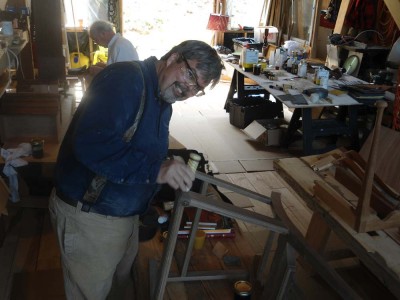 The plan is for about a dozen participants to bring one of those projects they have been building all winter to The Barn for a weekend of fellowship and hands-on traditional finishing.  There aren't really any presentations or lessons, it's just the crew of us working together to move forward with the most important part of the project!  I'm joined by my long time friend Dave Reeves who is a wonderful finisher to help us navigate the path to beautiful finishing as he will be demonstrating and providing hands-on instruction in pad polishing while I concentrate on burnishing and brushing.
This year it's the Virginia Chapter's turn, and we will be gathering in the mountains for three days of varnishing on May 30 – June 1, 2014.
For more information and registration please contact Bob Mustain at mustainrw@juno.com.  I believe that as with any SAPFM Chapter event, it is open to all SAPFM members nationwide.