A few weeks ago Chris Swecker and I spent anther couple days documenting the ongoing construction of a pair of Gragg Chairs I am building for clients, one a renowned furniture historian in Virginia and the other a historic architectural millwork contractor in Georgia.   (These clients have been most patient with the timeline of this project, which is why I have not made them pay anything until the chairs are delivered.)  Neither my bank account nor the other ongoing projects I have permit any faster pace of work, and we had to take a 5-month break over the winter due to the unheated-ness of the studio space.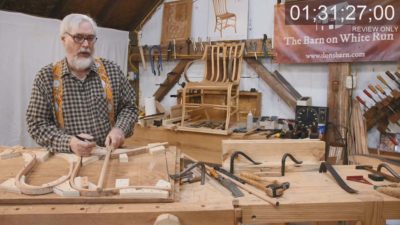 As we were working the chairs began to take shape beyond merely the jumbled pile of steam bent parts.  Actually they were never really "jumbled," but they were not truly assembled either.  It was exciting for Chris to see these former tree parts become chair-ish right before the camera.  Beginning with the dry assembled side elements I laid out the side rungs and chopped the mortises and cut the tenons.   Then I resembled the side units with screws and glue, just as Gragg had done 200 years before.
Then came perhaps the most visually appealing portion of the project to date as the two sides were connected with the lateral horizontal elements, becoming something that sorta looked like a chair.  This required a bucket full of spring clamps and a few diagonal struts to keep things in the right configuration while moving forward.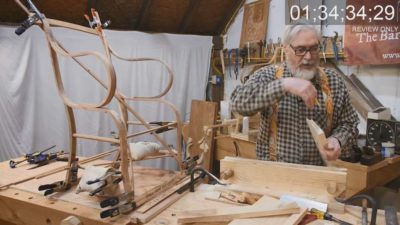 By the time the two days were done we had another 7 gigabytes of video recorded.  We are working so efficiently that I expect a yield of usable video to raw recording to be about 60%.  In reviewing the completed materials I am thinking the finished product to be in the 10-12 hour range.