Recently I had the chance to work on a fairly snazzy roll-top writing desk, which needed a bit of conservation. It was built around 1770 by arguably the greatest furniture makers who ever lived, and is prominent in the collection of the elegant museum dedicated to European fine and decorative arts.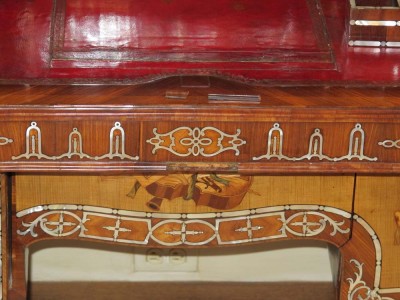 A short section of cross-grain molding had become detached, and part of my charge was to examine the desk from top to bottom to assess its overall condition.   I did, and it is in fine shape.
As was clear from the back of the moldings and the ground under them, this was not the first time these pieces had separated from the mother ship.  I counted three distinct campaigns of glue, and there could have been many more.
The pieces fit their place nearly perfectly even dry, with only the tiniest bit of rocking due to the excess glue under them.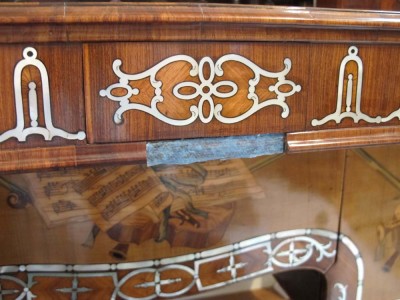 My strategy was to soften the extant glue and remove only a bit of it, so I poulticed the glue line on the desk with some blue paper towel, cut to fit the space precisely and moistened with water.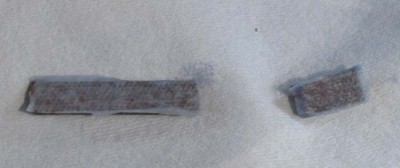 I did the same to the backs of the detached pieces.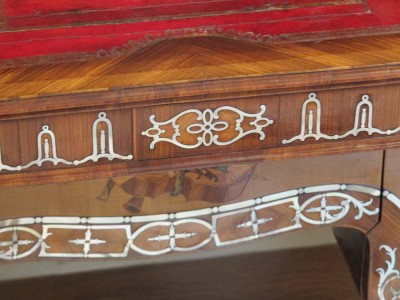 After a quarter hour or so the glue had softened and swelled to the point I wanted, and I removed the worst of the clumps and left the remainder in place.  For adhesive I turned to my long time fave, Milligan and Higgins 192 Special grade hot animal hide glue.  I had prepared this the days before the treatment, soaking it first in water overnight, then cooking it twice the day before I went.  A little dab of that, a minute of holding them in place with my infertips to gel, and I was done.
I packed up and left, reflecting on the fact that the opportunity to care for furniture from the greatest menuisiers of all time is exactly the reason I started down this path 43 years ago.