I am inclined to wear an apron while working in the shop, and my recent sessions working on the house while wearing my ancient Skiller's vest (basically a wear-able tool box) have led me to reflect on shop aprons in general and the ones I had in particular.  So, I took a couple hours to rectify my discontent with the aprons I had by making one to fit my own preferences.
Some of the shop aprons I have go back decades, and they look like it.  Others are more recent, but all of them have shortcomings that led me to grouse about them silently almost every time I put one on.  For starters, I like a shop apron that is really heavy weight.  Second, I want the apron to have its hem well below my knees.  Even more particular I want the apron to wrap all the way around the the back side of my leg.  Admittedly it could be my physique that precludes this functionality (depending on your frame of mine I have either a "prosperous" or NFL linebacker- sized body).
These last two features, length and width, (or their absence) determine whether or not a shop apron is truly useful when I am working while sitting down.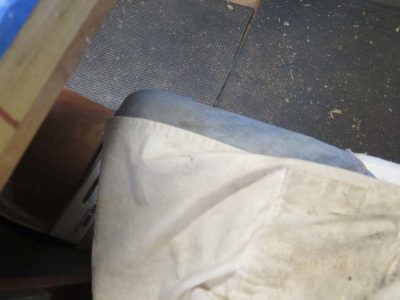 The aprons I have encountered and own are so narrow that when I sit down to work at a low bench they creep up over the thigh and become little more than a wide loincloth, entirely insufficient for any apron-y task.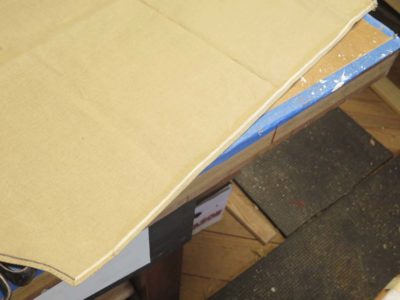 Recently I took an afternoon to begin making the apron I've always wanted but never found in the marketplace, at least not at a price I was willing to pay.  I started with a large scrap of heavy linen canvas 20(?) years ago I had squirreled away "for just the right project," and this apron was it.  Using the apron I wore the most as a pattern, I laid out the new one to be of the same general ilk but almost a foot longer and more than a foot wider compared to the aprons I use normally .
I cut it out and folded over the edges about 1/4″ then hand sewed the edges.  This took about two hours using a hefty needle and upholstery thread.  Fortunately for me the linen was so heavily sized that it stayed put when I folded the edges over, making the sewing a snap.

Since I like my apron bibs "high and tight" I made the neck loop from some of the linen canvas scraps and sewed it in place to just barely have room for my head to go through it.  With some linen tape I sewed on waist cords such that the apron tied in the front, another feature I demand.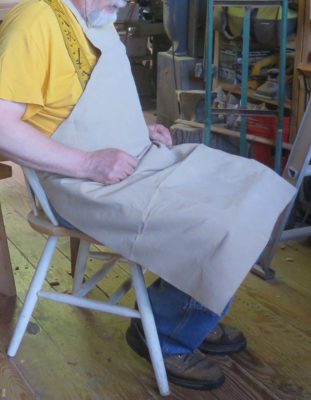 The added width was a particularly desirable feature as even when seated the apron covers my legs entirely.
Now I have an apron that meets my preferences, all I have to do is wear it for  while to figure out exactly what pockets I need and where to put them.  I'll give this a month's test drive then put on the pockets.
Stay tuned.