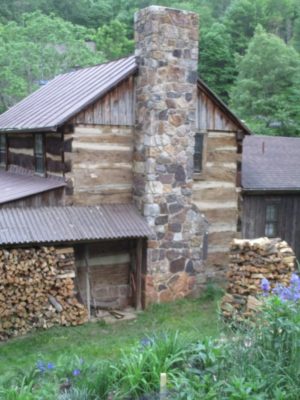 Our little community is down to one chimney sweep, a not inconsiderable logistical problem when there are probably around a thousand fireplaces and woodstoves in use here.  Getting on Rick the Chimney Sweep's calendar early is an important consideration, and this year we did not get on the calendar as early as we should.  But just in time for chilly weather he worked us in to clean out our beautiful stone chimney.  Fortunately, our exhaust flue is not prone to build-up and combining that with the choice of fuel — always well-seasoned hardwood — gives us a lot of latitude, chimney cleaning-wise.
The easy part for Rick is to climb a ladder to the top of the chimney and sweep it from the top down a la Bert the chimney sweep from Mary Poppins.  I'm not afraid of heights but Mrs. Barn insists that my amygdala is not as sensitive as it should be so I take more risks than I should.  Thus, she is delighted we can hire someone to work at the height required.
Rick is, among other things, an enthusiastic spelunker so crawling around in the fireplace behind the insert suits him just fine.   He gave our fire exhaust system a clean bill of health and said that we may not even need an annual cleanout.
His ministrations were just in time as the temps will drop precipitously over the next few days with snow coming next Tuesday and Friday.  I expect we will fire it up in the next 36 hours or so if for no other reason than Li'l T and his parents are visiting for several days and we want to keep him warm.
As for the barn, it is easy enough for me to disassemble and clean the stovepipe, which I did last spring.
All set.
PS  I'm about halfway through the task of splitting and stacking firewood for next winter, and by the time I finish with the entire mountain of wood in the parking area next to the barn I'll be ready through winter 2024/2025.