Day 2 was all about finishing up the laminated tops.  On Day 1 we got the core laminae glued up, that is the portions in between the leg joints front-to-back, but now it was time to get the stack laminated joinery cut and glued up.
No matter how much I fussed with the chop saw it was not adequate for the job of cutting the mortises and dovetails so I did all that on the table saw crosscut sled.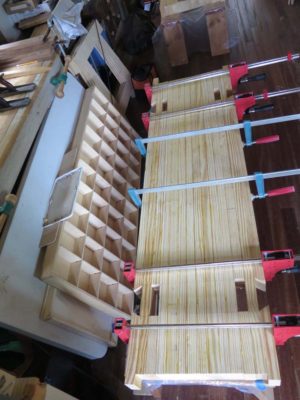 We started out by cutting the glued-up core slabs to the preferred length.  Since there were only four folks I decided to let everyone customize their benches however they wanted.  John wanted a 7+-foot bench, Pete and Stewart wanted six-footers, and Bill wanted a 54-inch bench, which left him with  40-inch piece left over.  So of course he decided to build two benches.
The joinery laminae were built up one side and one layer at a time, ending with them all being in place and clamped at the end of the day.