Recently I have added three new pocket-sized squares to my tool kit, or more precisely, pocket, to join a pair of old favorites.  Okay, not literally in my pocket, except for one of them that does actually reside in my hip pocket when I am in the shop, but all four have become integral to my work.
I am a fan of the Speed Square concept and have a number of them scattered around my work spaces, whether in the barn, in the cabin, or in the workshops at my daughters' houses.  12-inch model, 6-inch model, grey plastic, orange plastic, aluminum, I've got them and use them constantly.  Were I to actually read the instruction booklets carefully I suppose I could use them to get to the Moon.
My only wish regarding them was that there was a smaller version, one that I could fit easily in my hip pocket or apron pocket so that it was never out of reach.  Well, my friend Tom Delvecchio did just that for Woodpecker's with their one-time tool "The Delve Square" which was, true to their marketing, a limited production tool.  When it first came out I bookmarked it fully intending to go back and purchase it, but as is too often the case I got distracted by other things and by the time I got back to it they were sold out.  At this year's Groopshop Tom donated one of these tools for the fundraiser auction and the bidding was, shall we say, spirited.  I finally dropped out at about twice the original sales price.  Imagine my surprise when a package from Tom arrived a fortnight later, and inside was a Delve Square he had arranged for me to receive.  As I wrote him immediately, no good deed goes unpunished and I will bestow some equal generosity on him as time goes by.
And yes, I really do carry it in my hip pocket pretty much all the time when I am in the shop.
My second new ingenious addition is the Sterling Tool Works' Dovetail Square.  Many electrons have been expended on its behalf in the woodworking blogoshpere so I will not extol it in-depth here, but this tool has remained on my bench top ever since I got it.  I have yet to even put it away, it gets used so much!
Combined with my new petite dovetail saw from Bad Axe, my dovetailing has become not so much better but rather more important, much faster, especially when combined with my long-time friend, the dovetail layout square I fashioned from a piece of  1″ aluminum angle bar stock.  I have seen and used a wide variety of dovetail gauges over the years, but this 5-cent version made on the table saw from my own scrap drawer contents remains my favorite.
Actually I made two versions, one for shallower angled dovetails, the other for steeper.  I did not quantify the angles, I just made them to the angles I thought looked right.  The red layout dye is apparently left over from some earlier project unrelated to the dovetail squares, but I have not found it to be a hindrance to the tools' performance.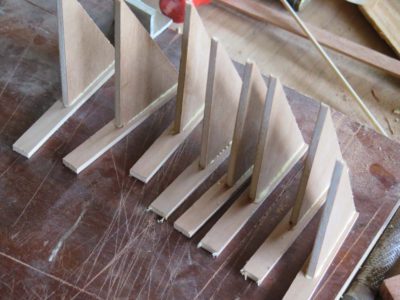 In addition to the need for the functions of these squares I find that between my growing commitment to making both the Roubo workbench and classical parquetry a square with 30-60-90 functions is ever more prominent for my work.  So this week I made several to have on hand and to send to students who requested it.
Delving into my scrap box once again I pulled out a piece of 1/4 plywood and made them.
After ripping the piece to about five inches and squaring the ends I brought out my old triangle that dates from the times I actually did drafting and this was part of that tool kit.  With the miter gauge on the table saw set to perfectly square, I laid the triangle against it then tucked a corner of the plywood piece into the kerf cut into the miter gauge.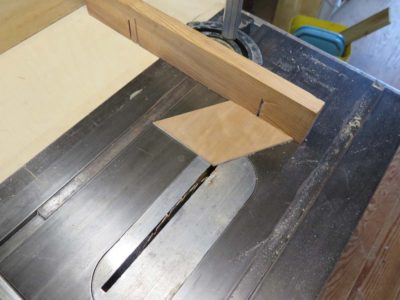 I cut the resultant triangle from each end of the plywood piece, then removed my drafting triangle and cut off two more.
I trued the edges of the sawn triangles with a squared block and a piece of fine sandpaper, glued a shelf on to the base of the triangle, cleaned up the excess glue, and they were done.