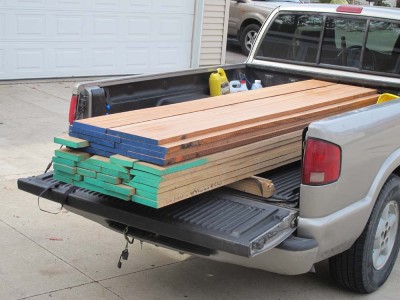 The time had come for me to render the truck load of lumber into the replica of Studley's workbench top.  For the base I am  going to construct a (hopefully) mostly invisible stand for the exhibit, since I simply do not have the time to replicate the base that is part of the bench currently.
The first things I noticed when preparing the stock were 1) the white oak from Iowa is some of the hardest material I have ever seen.  Even taking only 1/64″ cuts with my DeWalt planer, it was just about killing that machine.  It is almost a shame to bury such magnificent lumber inside the core of a laminate slab, but that's what I get for replicating the unit as precisely as I can determine.  I should note that this construction is based on my many hours of examining the original; the owner would not let me cut up the original to confirm my premise.  2) by working character, density, and odor, I found the "African Mahogany" to be nearly identical to Spanish Cedar, and were it not for the interlocked ribbon grain I would have sworn that was what the lumber was.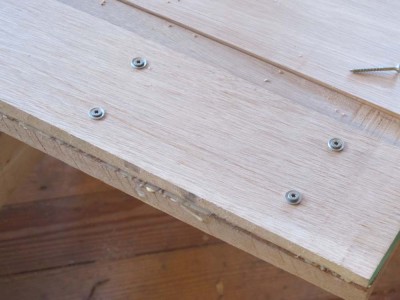 In assembling the slab I reverted to an old gluing technique from the pattern shop, where we often glued complex constructs together by clamping the pieces with nails or screws, then removing these fasteners when the glue had set.  Not having enough clamps of the correct size, and not wanting to build a press to accomplish the task, I did the same this time.  It didn't really matter for the core or the underside of the slab, but gluing the top lamina was a bit more of a challenge as you will see in a coming post.
Using my planing beam I first cleaned up the edges of the oak core boards and started to glue them together with yellow glue.  First I pre-drilled holes the size of the screw threads about six inches apart throughout the entire length of the boards, then screwed them together with deck screws and washers,  The efficacy of the tactic was apparent with the fairly even glue squeeze-out.
I made sure to make the boards off-set to add even more strength to the completed structure.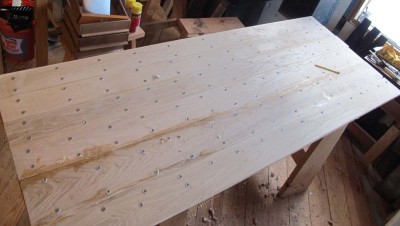 Once the two core lamina were assembled, the structure was exceedingly strong and heavy.  Almost immediately I began with the underside face of the slab.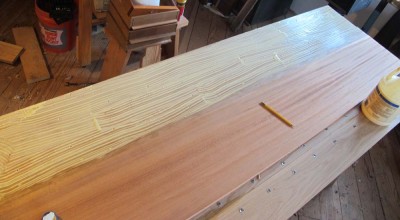 Repeating the same steps as before, after removing the screw-clamps I glued and screwed the African Mahogany boards in place, shooting the edges by hand first.  It was long past dark when I headed down the hill for supper, but the first three of the four 3/4 inch layers were in place.  Already it weighs a ton.
Sty tuned.