Thanks to the brutality of vengeful garden implements six months ago I was able to attend both the Lie-Nielsen Tool Event in Covington KY and the Grand Opening of the Lost Art Press World Headquarters recently.  You see, I had been scheduled to be in Cincinnati to shoot two instructional videos the first week of September 2015, but the resulting injury from the Attack of the Killer Wheelbarrow precluded my availability for that session.  F&W Video Producer David Thiel assigned me the next available week of studio time, which turned out to be March 7-11, 2016, and once I was up and about I began to focus my preparations on that time slot.
In the mean time LNT announced their event and Chris and Lucy fulfilled their life-long dream with the purchase of the building that was to become the new home for Lost Art Press.  When I arrived in town ahead of the shooting I had a bit of free time so I drove by the new World Headquarters and it was as useful and charming as Chris had described.  The neighborhood was exactly what they wanted, which is a true delight (it is too claustrophobic for me, I like my nearest neighbor's proximity to be measured in football-field-lengths if not outright mileage).
Come Saturday morning I was able to walk the streets of Covington and drop in to the new store front as it was open for the very first time.  Not surprisingly the foot traffic was steady and enthusiastic.
Taking pictures of the space was a challenge because there were so many folks coming to visit the Schwarz Mother Ship.  But with a little patience I finally got a nice pic of the bench in the center o the space and the wall unit that had served as the backdrop for the bar when it was still an establishment of refreshments.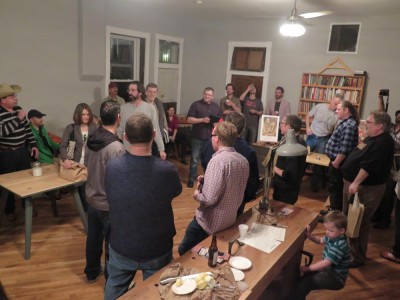 After the conclusion of the LNT event  few blocks away, the crowd began to gather at LAP for the evening's Grand Opening festivities.  I was delighted to get a little time to chat with Lucy, who was radiant in talking about living out this dream.  But then I have never seen Lucy when she was not radiant and enthusiastic.  I also spent a lot of time visiting with folks who were enjoying the fruits of our collaborative labors through the Roubo and Studley books.  But mostly it was a time of fellowship conversing with people about the topic of woodworking that binds us together.
I stayed as late as I had the wakefulness for, then headed back home after a good night's rest.